Looking for a bidet that has all the advanced high-tech features? Who wouldn't enjoy a very own luxury bathroom? We have listed the best luxury bidets that will make your bathroom look like a 5-star hotel bathroom for you.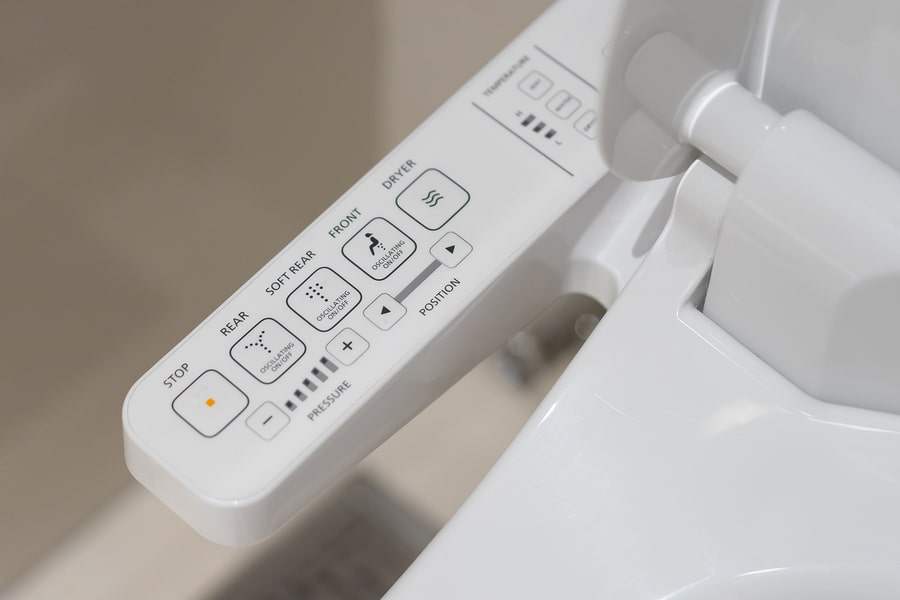 So, it's time to upgrade and transform your toilet! This article will help you choose the best luxury bidet according to your preference and need.
Our Picks for Best Luxury Bidets
Luxury bidets often come with a lot of advanced features. However, not every feature is what you need. We select three bidet seats that are popular in the market if you don't have time to read our reviews below.
Last update on 2023-10-03 / Affiliate links / Images from Amazon Product Advertising API
Best Luxury Bidet Reviews
Here is the list of best luxury bidet toilet seat reviews that you can buy to improve your personal hygiene habits.
1. TOTO S300e WASHLET Electronic Bidet Toilet Seat
Last update on 2023-10-03 / Affiliate links / Images from Amazon Product Advertising API
This TOTO WASHLET S300e Elongated Electric Bidet Seat delivers luxury and very comfortable for you to use due to its elongated heated bidet seat having a sleek slim design.
The most advanced feature of this luxury bidet toilet seat is the EWATER+ system that uses the electrolyzed water produced by a technologically advanced process converting water into a safe compound. This water helps clean the toilet bowl and decrease waste after each use.
You don't need to buy those harsh toilet cleaners. This EWATER+ technology keeps the toilet bowl hygienic without using harsh toilet cleaning chemicals.
This water also rinses the wand before and after use and provides you with a toilet seat that is free from germs or any bacteria. This TOTO S300 provides you extremely clean feeling.
The heated come with temperature control options. It is available in cotton white and beige color. The product dimensions are 20.8 x 15.3 x 3.9 inches and weighing 13.5 pounds. S300 bidet toilet seat is fully automatic which includes a wireless remote control with 5 spray settings and instant water heating option giving you immediate comfort.
There is an endless supply of warm water because of its instant warm water tankless system. You will never run out of warm water if you have this S300e luxury bidet seat in your toilet.
Another innovative feature of this TOTO S300 is the Air-in Wonder wave technology. This provides a strong but gentle jet of water spray. The water is injected with air to expand the droplets and produce a better cleanse without being too hard.
Water is sprayed at different speeds which allows the small droplets to bump in the larger water droplets to fill in the air. This advanced technology enhances the overall cleaning experience.
The premist technique also prevents the waste from adhering to the toilet bowl. Furthermore, it comes with a warm air dryer and deodorizer for a more pleasant experience. TOTO S300 has all the premium features of a luxury bidet that give you the best hands-free cleaning experience.
Pros
eWater+ technology
Instant endless warm water
Adjustable memory settings for washes
Warm air dryer
Deodorizer
Cons
No auto open and close lid option
Expensive
2. TOTO S550e WASHLET Electronic Bidet
Last update on 2023-10-03 / Affiliate links / Images from Amazon Product Advertising API
This luxury bidet toilet seat by TOTO also has a variety of useful features for you. As you know, TOTO washlet is one of the best Japanese bidets.
It is a combination of technology and luxury. The product dimensions are 20.7 x 15.1 x 5 inches and weigh 16.3 pounds. It has an elongate shape and is available in cotton white color with classic style.
It provides a warm aerated frontal and rear wash that is adjustable to 5 different levels according to your needs.
The S550e offers outstanding luxury with a lid that opens and closes automatically. The automatic lid is opened and closed with a proximity sensor or you can open/close it with the help of wireless remote control.
A new feature of this TOTO S500e is the convenient illuminating LED nightlight which makes your night trips to toilets easy without disturbing others. The bidet toilet seat has a white LED light that flashes for night use.
The dual side remote control is very user-friendly, easy to operate, and comes with a wall bracket. The front side of the remote control has all the touch-sensitive basic operations buttons, while the back side has advanced settings and tuning options.
The S550e uses a constant water heating system without a tank and produces an unlimited warm water supply for washing. Its instant water heater system can generate and maintain water temperature up to 104 degrees immediately.
It is also equipped with a warm air dryer and an automatic deodorizer. Moreover, you can take advantage of the pulsating and oscillating spray patterns for the highest comfort.
Its EWATER+ system uses the electrolyzed water produced by a technologically advanced process converting water into a safe compound. It befogs your toilet bowl between use with this electrolyzed water that helps disinfect and avoid germ buildup.
Furthermore, the nozzles are cleaned before and after use with eWater+ to ensure that a clean wash is provided to you. The premist feature also wets the toilet bowl before use. It comes with a one-year limited warranty.
The TOTO S500e is designed to offer a luxury bidet's most advanced and exclusive features.
Pros
The tankless warm water system
Power saving mode
Deodorizer
Warm air dryer
Wireless remote control
Oscillating or pulsating functions
Ewater+ technology
Pre misting feature to wet the toilet bowl
Cons
3. Brondell S1000-EW Swash 1000 Advanced Bidet
Last update on 2023-10-03 / Affiliate links / Images from Amazon Product Advertising API
This luxury bidet toilet seat by Brondell is perfect for people who want an advanced bidet product that is not expensive and have all the essential hi-tech features. It comes with a wireless remote control having 3 AAA batteries that have clear labels for all remote buttons.
The product dimensions are 19.4 x 15 x 5.7 inches and weigh 13.2 pounds having an elongated shape and white color. The remote is clearly labeled and rests in a holder separate from your toilet.
Using the easy remote, water temperature and pressure can be adjusted. There are also clear buttons for front and rear wash and three buttons for three levels to set the temperature of your toilet seat. It is very convenient to use as you just click a button on remote, and your desired thing is done.
It has dual stainless steel adjustable nozzles with a wide spray option that is more hygienic and durable than the plastic nozzle. Nozzle position can be adjusted to 5 different levels while water temperature and pressure to 3 different levels.
An automated Eco Mode saves power by automatically reducing the seat temperature. With a dedicated Nozzle Cleaning feature and button, clearing the nozzle is easy.
The nozzles are sterilized using Nano silver to provide complete hygienic cleaning. It comes with a 3-year warranty from Brondell.
Its best features are a warm air dryer to dry yourself entirely without using toilet paper and a deodorizer, eliminating bad odors. It provides you with instant and continuous warm water due to its ceramic-made heating system, and no water reservoir tank is required.
Its heated seat means that you can say bye to those cold seat shivers now. This means that you won't run out of hot water for cleaning.
This Swash S1000 bidet seat is beneficial for old age and people suffering from weakening diseases like arthritis as a hands-free bathroom experience can restore their independence and dignity.
This bidet seat's intuitive and user-friendly controls are also great for children. These features make it a very convenient and easy-to-use luxury bidet toilet seat giving you a clean and refreshed feeling.
Pros
Instant hot water supply
Wireless remote control to adjust the functions
Warm air dryer
Carbon filter deodorizer
Self-cleaning nozzle sterilization
Adjustable nozzle spray
Cons
No energy saving mode
No enema wash
Child mode missing
4. Brondell Swash 1400 Luxury Bidet Toilet Seat
Last update on 2023-10-03 / Affiliate links / Images from Amazon Product Advertising API
This user-friendly luxury bidet toilet seat comes from more than two years of research, design, and testing. The Brondell Swash 1400 is the most advanced bidet seat with a new design, high-quality components, and cutting-edge technology.
Swash 1400 is 20.4 x 15.2 x 5.8 inches and weighs 14.3 pounds with an elongated shape. It is available in white with a sleek design made of stainless steel.
It has a heated seat and provides warm water washing with temperature, pressure, and adjustability of the nozzle position.
The seat and lid have gentle closing. The nozzle of the bidet is also sterilized through silver nanotechnology, which rinses the nozzles clean.
It offers fully customizable settings according to you. Two retractable and self-cleaning wands are used, one for backwashing and one for feminine washing. The separate frontal and rear wash nozzles make sure to provide you with a hygienic wash.
The Swash 1400 has a thick lid that supports your weight too. It is also equipped with a warm air dryer that has adjustable four levels of temperature and is helpful for everyone, especially people with mobility issues, and gives you a totally "hands-free" experience.
No bad odor anymore! It has a replaceable deodorizer, having a carbon filter that also cleans the air and masking bad smells. Another good thing about this Swash 1400 bidet is that all functions are operated quickly by pressing a separate button for everything on the wireless remote control.
This product is definitely loaded with features as Swash 1400 has an automatic eco mode which helps in conserving energy, and a cool blue illuminating nightlight making your night trips to the bathroom very convenient. Brondell gives a 3-year limited warranty on this bidet product.
Pros
Silver Nano-technology sterilized nozzles
Adjustable warm air dryer
Endless and instant supply of hot water using a tankless water system
Night-light illuminating mode
eco-friendly design
Air deodorizer with replaceable cartridge
Wireless remote control to adjust pressure and temperature
Cons
Night light mode hard to disable
No gentle pulsating massage feature
Women must scoot back for the frontal wash
5. BioBidet Bliss BB2000
Last update on 2023-10-03 / Affiliate links / Images from Amazon Product Advertising API
If you want a premier class bidet for your toilet, then Biobidet Bliss BB2000 is the answer. Bliss BB2000 is an advanced luxury bidet toilet seat with the best cleaning features. It is very well designed and offers high quality that ensures long life.
This is a fusion model so it's all your choice to use the premium functions of the bidet or the regular toilet functions. The product dimensions are 21 x 15.6 x 9 inches and weigh 16.4 pounds.
What's unique about this luxury bidet? Almost all bidet seats come with dual nozzles but BB2000 has a 3 in 1 nozzle. This system is used for signature vortex water stream, brilliant posterior and gentle feminine wash using the bubble infusion aerated technology.
The vortex water steam uses the maximum volume of water for maximum cleaning experience. The 3 in 1 system is more reliable and effective than 2 in 1 or 1 nozzle wash options. It also comes with a U-Pick wireless remote control in black and white color for your convenience.
It has a powerful heating seat with adjustable temperature equipped with intelligent body sensors. The bliss BB2000 also has a warm air dry to eliminate toilet paper usage. The user can enjoy the oscillating wide clean and pulsating message cleaning as well. It is very eco-friendly having an energy-saving mode which conserves energy to reduce your bills.
Another breakthrough of this bliss BB200O0 is its hybrid water heating technology. This innovation is one of the most effective, useful, and reliable instantaneous water heating methods which combine the water flow and temperature resistance with unlimited duration to create a continuous warm and regenerating water flow.
To make sure that nozzles stay ultra-clean, they are made of stainless steel, motor-driven and patent-pending Hydro-Flush technology cleans the nozzle inside-out to provide maximum hygiene.
The CleanSurge rapid self-cleaning is another advanced feature of this bidet which cleans the nozzle with just one touch. It has a nightlight LED mode for trouble-free night trips to your toilets. Bliss BB2000 comes with a 3-year warranty.
Pros
Wireless remote control
Hybrid heating system
Warm air dryer
Deodorizer with a carbon filter
Night-light mode
Touch screen control panel
Hydro-flush cleaning
Cons
No water sterilization
No auto open seat and lid option
Want to know more about this product? Please check our in-depth review for Bio Bidet Bliss BB2000.
6. Toto Neorest 1.0 GPF and 0.8 GPF 700H Dual Flush Toilet
Last update on 2023-10-03 / Affiliate links / Images from Amazon Product Advertising API
This luxury bidet is one of the best bidet toilet combos that give you extra comfort. It is a combination of luxury and economy having an elongated front toilet bowl. It is a dual flush toilet with a soft closing lid and a heated seat that is temperature-controlled.
The skirted design with a high-profile tank makes it a good choice for a dual flush toilet. It comes with a double cyclone flushing system and provides an automatic hands-free flush that is suitable for all ages. You can also enjoy features like the oscillating and pulsating massage.
In addition, the Neorest 700H comes with a remote control to allow you to control and adjust the water temperature and pressure settings.
The toilet bowl is made of SanaGloss, making it smooth and creating an ion barrier so that the bowl stays cleaner for a long time. This luxury flush toilet uses the eWater+ technology for maximum hygiene and cleanliness.
Plus, the warm air dryer will make you dry in less than a minute after washing, leaving you refreshed. It also has an illuminating nightlight feature for night safety. The air deodorizer eliminates all undesired odors in your bathroom.
Pros
Tornado Flush siphon jet flushing system, ultra-high efficiency
Washlet with three wash modes (front, rear, soft)
Wireless remote control
Auto lid open and close, auto flush option
Energy-saving mode
eWater+ mists technology
Nightlight illuminating mode
In-built air deodorizer
Heated seat
Cons
No warm air dryer
Expensive than other models
7.Euroto Luxury Smart Toilet One Piece Toilet:
No products found.
The Euroto Smart Toilet is the intelligent toilet bidet you need for peak comfort and adequate hygiene. Since the Euroto strives to give you premium comfort, it features a heated seat that helps folks living in colder areas.
There are several modes for washing, including a separate one for men and women. Although other settings such as massage wash and pulsating wash are present, you can modify them according to your comfort.
These modes help promote efficient blood circulation as well. Also included are sensors that detect when you're near or far. It then proceeds to open the lid or close it accordingly.
The auto-flush toilet also uses a sensor to detect when you get up. You can even adjust the air dryer's intensity and temperature to allow for a more customized experience. The control panel can easily be stuck on the wall. It is pretty durable and protects itself from any humidity.
The built-in water filter also ensures that no hard water can build scales in your toilet bowl. Let's not forget the expert craftsmanship that went into creating each model. The toilet is made of high-grade polypropylene, which is more immune to cracks or damage.
The bidet wand cleans itself after each use. The included built-in carbon filter helps eliminate any unwanted odors.
The Euroto Luxury Smart toilet is perhaps the best luxury bidet that is durable and sturdy.
Pros:
Constructed from High-grade premium materials.
Adjustable temperature and flow of all features.
Automatic features such as flushing and lid opening/closing.
Various spray types that can be easily modified.
Hygienic and comfortable.
Cons:
A full flush is not as powerful as it should be.
Stains very easily.
The common features of a luxury bidet?
A great feature of a luxury bidet is that it comes with remote control with clear instruction buttons useful for all age groups. It also comes with auto energy-saving modes to reduce power usage by turning off the seat when not in use.
It has a self-diagnostic function where the control panel LED flashes when a fault is detected to warn the user.
A luxury bidet has the newest wide spray technology with three adjustable levels of cleansing that go well with your personal needs. It has a warm air dryer which dries you after washing, so you don't have toilet paper at all. The nozzles have the self-cleaning property to avoid the buildup of germs and bacteria.
The ball filter made of silver ceramic consists of naturally sterilizing elements that ensure that the water used for bidet cleaning is uncontaminated and pure! It has a deodorizer that works just as an air freshener spray that eliminates unwanted odor. A luxury bidet will definitely improve the look of your toilet.
Conclusion
These bidets are the luxury and comfort you don't want to live without. We recommend you buy the best luxury bidet for the finest possible experience. This would significantly reduce your yearly toilet paper expenses while improving personal hygiene.
So choose the best luxury bidet for your toilet to give it a lavish look while you enjoy the benefits of refreshed, clean feeling after every wash. Once you start using a luxury bidet, you will never want a bathroom without it. It's an entirely new experience of a healthy lifestyle.