When it comes to Japan, a lot of things may come to mind. Anime, sushi, and Geishas are just a few of them. However, those who visited Japan are sure to remember one thing above all. Their amazing luxurious bathrooms.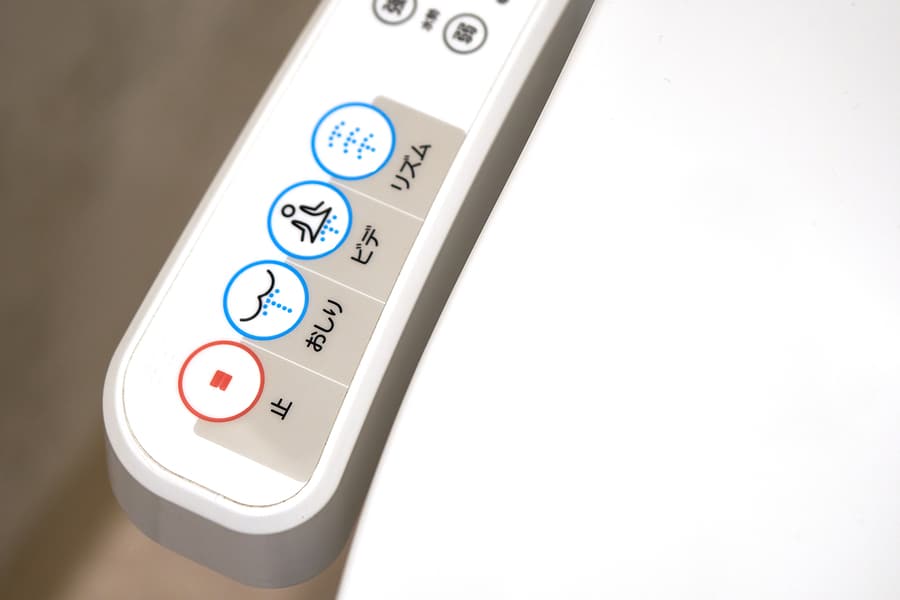 The Japanese are obsessed with luxurious hygiene especially when it comes to the bathroom. No wonder there are so many Japanese companies that manufacture these bidets. However, one might wonder, what exactly is a Japanese bidet, and which one is the best? Well, you will find these answers in this post.
Our Picks for Best Japanese Bidets
If you are not on a budget, we advise you to go for TOTO S550 directly, however, if you are new to the world of bidet and want something basic to try, TOTO A 100 could be a suitable option.
Last update on 2023-10-04 / Affiliate links / Images from Amazon Product Advertising API
What Is A Japanese Bidet?
A Japanese bidet is just a fancy name for what is known in the US as a washlet or an over toilet bidet. It simply refers to the Japanese origin of these appliances and how they came to be. These are mostly electronic in nature and feature either a sidearm panel or remote control to allow you to control all the features.
Japanese Bidets have nozzles that can help you clean yourself from the front and rear. They even allow you to control the pressure and the temperature of the water. Moreover, it offers premium features such as a deodorizer, music, a warm air dryer, as well as heated seats.
These have recently gained traction in the West with more and more people converting from Toilet paper to Japanese bidets. These toilets are high-class quality and will last longer than any other toilet seat. However, the inventor of the bidet is not from Japan.
Best Japanese Bidets: Reviews
1. TOTO SW3056#01 S550e WASHLET Electronic Bidet Toilet Seat – Best Overall
Last update on 2023-10-04 / Affiliate links / Images from Amazon Product Advertising API
If you are looking for a Japanese bidet with all the advanced features you want, I would recommend you check this model.
This TOTO S550e is equipped with an E+ water system. This system turns the water into electrolyzed water which helps to remove stains and keeps the bowl clean.
It also features an auto-open and close lid. In this way, you can use the toilet without touching it. This is helpful for people with disabilities and seniors. Additionally, you can set 2 personal settings on the remote control. Therefore you don't have to adjust the settings every time you use it.
For people who may need to use the bathroom at night, this model comes with a night light. This design is sweet as it will guide you the way without waking you up totally.
Honestly, this TOTO 550 is a bit pricy, but you will get what you pay for.
Pros
E+WATER system helps to remove batteries and stains.
The lid will open and close automatically.
Night light included.
You can set your personal preference.
Cons
Only suitable for the elongated toilets.
A bit pricy.
2. TOTO C200 WASHLET SW2044#01 Electronic Bidet Toilet Seat – Best Mid-Range
Last update on 2023-10-04 / Affiliate links / Images from Amazon Product Advertising API
TOTO's huge popularity is a result of its durable and reliable results that have tested well over time. The C200 washlet simply confirms this as it is one of the most affordable and the best Japanese bidets even in the US market.
This Japanese washlet features a rear wash and a front wash that allows you to cleanse yourself with warm water. The water temperature and the pressure can be adjusted according to five different settings. So, you never have to compromise on your preferences.
Also included is a premist function which functions by using the water from the water supply and misting the toilet before every use. This keeps a more hygienic environment and helps any solid waste from building up.
The heated seat is a revered feature in colder countries. It is available in five different heat settings to allow maximum comfort.
On the other hand, features such as the Deodorizer and the dryer help create a premium luxury environment for the user. Not to mention that the temperature of the dryer is adjustable as well.
You don't even have to clean the wand! In fact, the wand uses a self-cleaning technology that can be cleaned after each use. The device is remotely controlled so you can have full control in the palm of your hand. You can even store your personal preferences in the remote.
Pros:
Adjustable heat and pressure settings.
Gentle yet effective wash,
Rear and front wash are both available.
Easier to clean the bowl and the wand.
Remote control operation.
Cons:
Takes a lot of time to dry properly.
Hot water is not continuous and can end.
The tank is a bit bulky.
3. TOTO A100 WASHLET SW2014#01 Electronic Bidet Toilet Seat – Best Budget Option
Last update on 2023-10-04 / Affiliate links / Images from Amazon Product Advertising API
It should come as no surprise that another toilet seat from Toto has landed itself on our best Japanese bidets list. The Toto A100 is the perfect personification of comfort and hygiene. If you don't care much about the bells and whistles, this would be a nice option.
The seat is heated and you can easily set the temperature of the seat according to your preferences. This feature is what makes it so popular in the northern US where going to the toilet can be hard due to the extreme cold.
The control panel is featured on the side where every button has its own function. Unlike remote controls, you can never lose them!
Even users with limited mobility can use these panels with ease. The Toto A100 features the same Air in Wonder Wave technology as the C200. It allows air to be injected inside the water stream to deliver a gentler and cleansing stream.
Let's not forget that the water pressure and temperature can be easily controlled using the side panels. However, you still need to use some tissue paper as it doesn't include an air dryer.
Another great add-on is the quick-release feature. This feature allows you to install and detach the toilet seat from the bowl without any hassles. This is why the Toto A100 is so much easier to install.
What's more, is the soft close lid that allows you to close the lid without ever slamming or touching it with your hands.
All in all, the Toto A100 is the perfect option for those looking for hygienic luxury without investing too much.
Pros:
Allows a gentle stream of water to cleanse you.
Easy to install and detach.
Side control panel which is always in reach.
Adjustable temperature and pressure controls.
Suitable for all kinds of folks.
Cons:
No air dryer.
Bulky water reservoir.
4. INAX 8012A70GRC-415 Heated Shower Toilet Bidet Seat
Last update on 2023-10-04 / Affiliate links / Images from Amazon Product Advertising API
The Inax 415 is another good one from Japan as it features an advanced personal cleansing system that helps deliver to you the utmost comfort and cleanliness.
The seat is adjustable and heated as well. The heat and the position of the seat can be adjusted using the 3 preset settings. However, it also allows you to save about 2 customized settings.
Moreover, it comprises of adjustable water controls. You can easily set the temperature and pressure of the water stream according to 5 different settings. This allows you to set your own spray strength. Plus, there is a massage setting as well to help you gain a spa-like experience.
The deodorizer allows you to filter the odors and keep the bathroom smelling fresh. The toilet seat uses a charcoal filter to do so.
The function is activated as soon as you sit down and gets deactivated as soon as you stand up. The anti-bacterial protection on the seat, nozzles and the cover, as well as the control panel, effectively inhibits the growth of pathogens and any other microorganisms.
The soft closing seat means you never have to slam the toilet seat down again. It allows for a slow, quiet and hands-free closing. The nozzle features a self-cleaning technology whereby the nozzle is automatically rinsed after each use.
The bidet also allows for a feminine front wash and rear wash. The quick detach seat cover only needs a button to be pressed before it can be detached. This means you can easily detach the seat to clean the bowl whenever you want.
Pros:
Easy to detach and clean.
Features customizable pressure and temperature settings.
Antibacterial protection.
Removes all odors from around the seat.
Adjustable spray strength.
Cons:
Might not fit all kinds of plumbing connections.
Not very sturdy.
5. Panasonic Handy Toilette DL-P300-A Portable Bidet – Best For Travel
Last update on 2023-10-04 / Affiliate links / Images from Amazon Product Advertising API
This bidet seems a bit strange when you first look at it, but you may love it as it is so affordable and portable. For those who want a simple and straightforward solution, this one would be a good try as well.
Powered by batteries, this portable bidet is made with plastic and could be stored in your bag easily. This is great for traveling, allowing you to enjoy the bidet anywhere you want.
There are 2 speed options to cater to your different needs. The only thing you need is clean water while using it.
Come from another Japanese brand Panasonic, this bidet is something that could last for years.
Pros
Portable.
Affordable.
Powered by battery, no outlet needed.
Built to last.
Cons
6. INAX RT Series CW-RT2/BB7 Bidet Toilet Shower
Last update on 2023-10-04 / Affiliate links / Images from Amazon Product Advertising API
The INAX BB7 is yet another model that exudes elegance and comfort. The seat is perfect for users who want to set it at their exact comfort level.
The heated seat is a remarkable feature for those who live in the colder parts of the country. The antibacterial seat covering is yet another plus point that ensures that your seat always remains free of any pathogens.
Along with the water controls, a massage feature is also present that is perfect for this suffering from hemorrhoids or other ailments. It also features a feminine wash which is great for mom.
Two nozzles work independently and even have a self-cleaning feature. This means there will be no solid buildup of calcium deposits on the nose.
The model comes with an energy-saving function. However, no hot dryer in this bidet.
Pros:
Antibacterial seat for a truly hygienic environment.
Customized pressure and temperature settings are available.
Feminine and posterior wash are available.
No clogging problems.
Cons:
Not as sturdy.
No air dryer.
What Are The Biggest Japanese Bidet Toilet Brands?
Since these seats are so popular and common in Japan, it should come as no surprise that some big names you hear in the industry are actually Japanese. Some of the biggest Japanese Bidet toilet brands are:
Toto Washlet:
Like the brand 'Hoover' that is often used when describing a vacuum cleaner, the 'Washlet' has become synonymous with bidet seats due to their popularity. Toto was founded in about 1962 and started off as a metal fittings company. The company cares about its customers and the environment as well.
All Toto washlets are of high quality. It is one of the most popular and best brands when it comes to any bidet, not just Japanese bidets.
It has a lot of great models and I have summarized the best TOTO washlets for your reference.
INAX:
INAX was founded in Japan in, as early as, 1929. It started off as a ceramic tile and sanitary ware manufacturer. Today INAX is one of the leading manufacturers in Japanese style bidets. The INAX bidets are all fully functional with most being anti-bacterial as well.
Panasonic:
Panasonic is yet another Japanese brand that has been out for a long time. They dabble in a wide variety of trades ranging from TV to Air conditioners. However, one of their most remarkable product has to be their toilet bidets. These bidets are made to perfection and ensure you don't waste toilet paper.
Wrapping Up
Any of the best Japanese bidets are bound to leave you with a fresh, clean, and hygienic experience. They all come equipped with the latest features such as a heated seat, adjustable water temperature, different washing models to ensure you get only the best luxury experience.
All these bidets are bound to make you feel like you're in Japan since it is the pioneer of toilet luxury. You can count on any of these to help you keep yourself clean!